SES Response Rate and Reminder Emails
SES Response Rate and Reminder Emails
UO Instructors with the highest SES response rates often report communicating about the value of the survey responses and offering credit, for example, either offering credit to the entire class if the group reached a high response rate, or creating a canvas quiz asking students if they completed the survey and relying on the "honor system". 
While Student Experience Surveys are open, instructors can access the current response rate and an email link to send to students who have not yet submitted a response. This guide provides instructions for how to access that information and send reminder emails to students. 
Accessing Student Experience Survey Results
Use this resource to log-in to course surveys through DuckWeb.
 
Navigate to "My Courses"
In the Home drop-down menu, select "My Courses"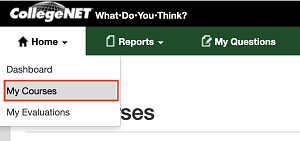 Within "My Courses" instructors can view response rates for surveys that are currently open, or view reports for surveys that are closed.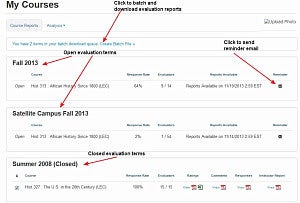 To send reminder emails to students who have not completed the student experience survey:
Click the envelope icon in the course's Reminder column.
Enter From, Subject, and Body just as you would in any email system. You can insert data field variables into the body of your message if you want to. Simply position your cursor where you want the data field in the message and click the data field label on the right.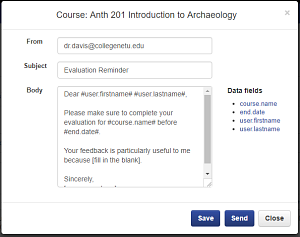 course.name inserts the name of the course.
end.date inserts the evaluation term end date.
user.firstname inserts the first name of the student.
user.lastname inserts the last name of the student.
In addition to the text and information you enter, the message will automatically contain the student anonymity disclaimer noted below:
"Please know that the What Do You Think? online course and faculty evaluation system keeps your information and identity 100% confidential. All course evaluations are anonymous. This email was sent to all students who have not completed an evaluation for this course. Neither your instructor or any administrators have access to see who receives this email."