Student Experience Survey Access Integrated into Canvas
Student Experience Survey Access Integrated into Canvas
A new Canvas feature allows students and instructors to more easily access UO Student Experience Surveys. The integration provides a link titled "UO Course Surveys" from the Canvas course navigation menu and allows easier access to CollegeNET, the system that deploys Student Experience Surveys and Instructor Reflections. The UO Senate Continuous Improvement and Evaluation of Teaching Committee requested this Canvas integration to provide easier access to Student Experience Surveys as part of their efforts to increase student response rates.
What can students see?
Students will see a link titled "UO Course Surveys" on the Canvas course navigation menu for each course. However, instructors have the ability to hide the link from their course navigation menu (more below). When visible to students, the link provides direct access for students into CollegeNET, where students can find and complete Student Experience Surveys for all of their courses.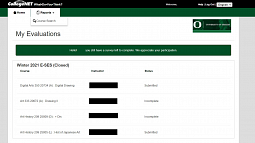 The "UO Course Surveys" link provides general access to CollegeNET, not only access to the Student Experience Survey for a specific course. In other words, students will see the same CollegeNET page regardless of which Canvas course they use to access CollegeNET.
How can instructors use the integration?
The integration is intended to help students and instructors more easily access and complete surveys. The "UO Course Surveys" link is automatically visible to students in each Canvas course. However, instructors can customize the visibility of this and other items in their course navigation menu in Settings under the Navigation tab.
Instructors can also use the "UO Course Surveys" link for easier access into the CollegeNET system themselves. Instructors can see the results of previous student surveys, see real-time response rates, and complete and view their own Instructor Reflections.
Accessing reports and response rates: Under the Home tab, select "My Courses" to see a list of surveys for your courses. Beside each course, you can find the current response rate and access the reports from completed surveys.
Can we still access CollegeNET surveys and reports through DuckWeb?
Yes, both students and instructors can continue to access CollegeNET through DuckWeb. The Canvas integration simply provides another access point to the same CollegeNET system.
To access the UO Surveys through DuckWeb: log into DuckWeb, then click on the "Course Surveys" link in the main menu. The "Course Surveys" link is found on the main DuckWeb landing page.
Can students see survey results?
Students have historically had access to numerical rankings from the old Course Evaluations but do not have access to past student comments. Students can view numerical summaries from Course Evaluations up until Summer 2019. When the old Course Evaluations were replaced with Student Experience Surveys in Fall 2019, numerical data were no longer collected and Student Experience Survey results are not visible to students.
For further assistance, UO Online & Canvas Support is available.
In-Person: Room 68 PLC
By phone: (541) 346-1942
By email: uoonline@uoregon.edu
Chat with us at livehelp.uoregon.edu
Submit a Service Portal Ticket by clicking the Help button at the bottom of the Global Navigation Menu in Canvas