Instructor Added Questions
Instructor Added Questions
Staring Winter 2023, instructors can add up to two of their own questions to UO Student Experience Surveys. Instructors can add and edit their own questions before the survey opens for students. The questions appear at the end of the survey for students.
Instructions for creating and editing instructor added questions are below. 
Once added, instructor questions are automatically copied to the next term for the same course taught by the same instructor. However, instructors can edit their questions any time prior to the surveys opening for students. 
Instructor Added Questions
1. Log-in to Course Surveys through DuckWeb.
Login to DuckWeb, select "Course Surveys," and click "Open the Course Surveys site" 

---
2. Navigate to "My Questions."
In the top menu, select "My Questions"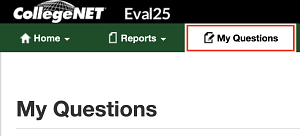 ---
3. In the "My Questions" page, select the term, course, and "Show only my questions."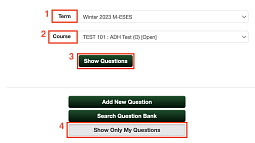 Select the correct term for the current survey. (M-SES is midway, E-SES is the end of term survey)
Select the course you want to add questions.
Select "Show Questions" to view all survey questions for that course.
Select "Show Only My Questions" to view instructor added questions for the selected course. 
4. Click "Add New Question."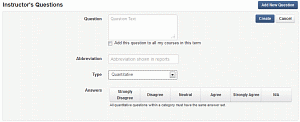 5. If you want this question added to the surveys for all your courses for the selected term, not just this particular course, check that box.
6. Enter an abbreviation for the question. This is just a word or phrase to identify the question (so if asking about a new class activity, the abbreviation might be "activity"). Note: The abbreviation is displayed in some reports.
7. Select a question type and confirm the answer choices are appropriate.
For written questions, no action is needed. 
For quantitative questions, select answer choices that match your question. 
9. Click Create.
10. Repeat steps 4 - 9 to add another question.