Grading an Assignment with SpeedGrader
Grading an Assignment with SpeedGrader
SpeedGrader is the Canvas grading tool. SpeedGrader is associated with every assignment and provides you with a strong diverse tool set to provide rich feedback to students.
Grading with SpeedGrader
SpeedGrader is the Canvas grading tool.
 To grade an assignment in SpeedGrader, open Assignments from the link on the Course Navigation Menu and click on the assignment you want to grade. Your link to SpeedGrader will be on the right under related items. If your display is small this will be moved to the bottom of your display.

To grade a submission, select the student whose submission you would like to view.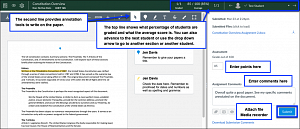 For further assistance, UO Online & Canvas Support is available.
In-person: Room 68 PLC
By phone: (541) 346-1942
By email: uoonline@uoregon.edu
Chat with us at livehelp.uoregon.edu
Submit a Service Portal Ticket by clicking the Help button at the bottom of the Global Navigation Menu in Canvas