Gradebook Filtering and Navigation
Gradebook Filtering and Navigation
The Canvas gradebook provides filtering tools to help you navigate your assignments, your students, and their progress through your class.
Gradebook Features
The Gradebook features menus for navigation [1], with areas for student data [2] and assignment data [3]. You can access this assignment and student data through keyboard shortcuts [4], as well as by typing into the search bar [5]. Finally, you can change settings for the Gradebook through the Settings icon [6].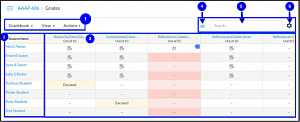 Gradebook Menus
The Gradebook [1] and View [2] menus at the top left of the screen allow for different displays and filtering of the Gradebook, while the Actions [3] menu provides access to the Import/Export functions.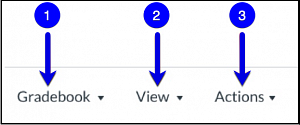 Changing the Gradebook Display
Go to the Gradebook [1] menu to change your Gradebook display.
Select Learning Mastery [2] to display outcomes on assigned assessments. This gradebook view is used with Canvas Outcomes.
Select Individual View [3] to display all grades for an individual student. On this page, you can filter grades by section, assignment, and student.
Select Gradebook History [4] to display recent changes made to grades. More information on Gradebook History can be found in the designated Gradebook History documentation.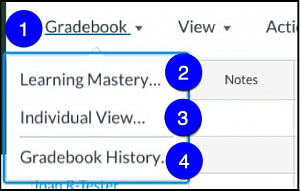 Sorting and Filtering the Gradebook
Go to the View [1] menu to find options for sorting and filtering the Gradebook.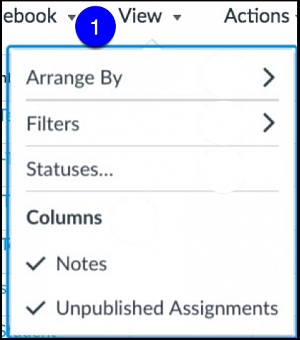 ​Select Arrange By to arrange assignment columns by Assignment Name, Due Date, Points, or Module. The Default Order of assignment columns is based on their order in Assignment groups.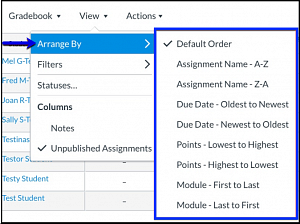 ​​
Select Filters to view only assignments in a particular Assignment Group, Module, Section, or Student Group.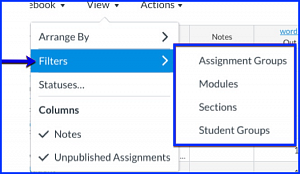 Select Statuses to change the color of your statuses (Missing, Excused, Late, Resubmitted, Dropped) via the pop-up menu.
Below Columns choose whether to show or hide Notes and/or Unpublished Assignments. While the Unpublished Assignments column appears in the Gradebook, it does not appear in a gradebook export.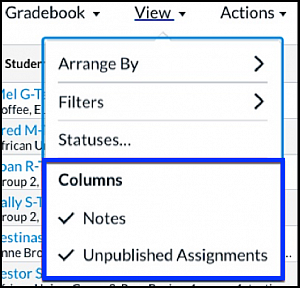 ​
For further assistance, UO Online & Canvas Support is available.
In-Person: Room 68 PLC
By phone: (541) 346-1942
By email: uoonline@uoregon.edu
Chat with us at livehelp.uoregon.edu
Submit a Service Portal Ticket by clicking the Help button at the bottom of the Global Navigation Menu in Canvas