Uploading Final Grades into DuckWeb
Uploading Final Grades into DuckWeb
At the end of the term, final grades can be exported from Canvas and uploaded into DuckWeb.
Exporting Grades from the Gradebook
Go to the Actions menu [1].
From the Actions menu, select Export [2].
A banner will appear at the top of the page to signal an export has begun.
The exported file will be available as a CSV file in the Downloads section of your computer.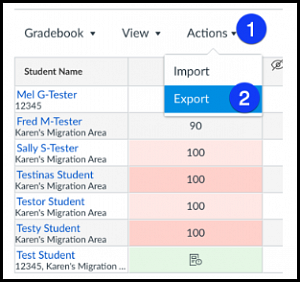 Creating the Grade Import File
In order to upload your grades to Banner/DuckWeb, your grade file must be formatted properly.  
The Canvas export file will include all the student information, assignments, assignment groups, and final grade calculations.  
Make sure the Current Grade and Final Grade match. This indicates that all assignments have been graded and are being calculated in the Final Grade results.  
Make sure the Unposted Current Grade and Unposted Final Grade match so you know all assignments are unmuted and students have received all their grades.  
When uploading grades to Duckweb, only the SIS ID (95 number) and a Final Grade column are needed -  all the other columns can be deleted from the file you create to import to DuckWeb.  
DuckWeb will ask you to indicate which columns contain the SIS ID (95 number) and Final Grade, so be sure to note those.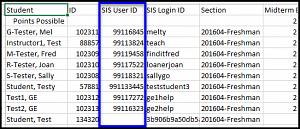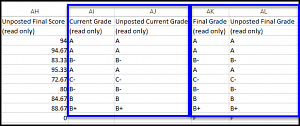 Uploading the Grade File to Duckweb
Now that you have your Canvas Grade File, please follow these instructions from the Office of the Registrar on importing that file into DuckWeb. 
For further assistance, UO Online & Canvas Support is available.
In-Person: Room 68 PLC
By phone: (541) 346-1942
By email: uoonline@uoregon.edu
Chat with us at livehelp.uoregon.edu
Submit a Service Portal Ticket by clicking the Help button at the bottom of the Global Navigation Menu in Canvas