Creating Perusall Assignments in Canvas
Creating Perusall Assignments in Canvas
Using the Perusall app within Assignments allows instructors to assign a reading for collaborative annotating to the whole class, make it a Canvas Group assignment, and also set due dates for the Assignment. 
Once your assignment is created in Canvas, read the Perusall Basics - Start Here resource.
Creating your Perusall Assignment
Navigate to your Assignments page and click the "+ Assignment" button.

Scroll down to the Submission Type field

From the drop-down menu, choose External Tool and click Find.
Configure External Tool
Scroll through the External Tools list and click on Perusall and then click Select.
You will be returned to the Assignment set-up screen.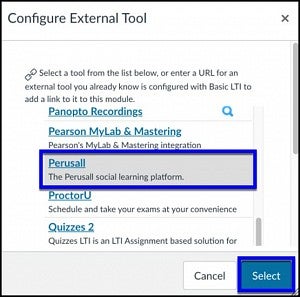 Note that the URL text box is now populated with Perusall in the URL.
Also, it is required that the checkbox, "Load This Tool in a New Tab" be checked.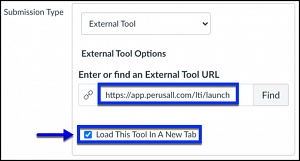 Finishing Up
Edit the Assignment name, instructions, due dates, and any other settings you wish to change. 
NOTE: When using Perusall we recommend using the Until Date in Canvas as the Due Date for all assignments in Perusall. This will close the assignment in Canvas and not allow students to access the assignment in Perusall to make further annotations after the Until Date.
When all settings are complete, click Save or Save & Publish
After saving the assignment, the Load Perusall Assignment in a new window button will appear.
When your students click on the Assignment, they will see the same screen and prompt. They will need to click on "Load Perusall Assignment in a new window" to open the Perusall assignment and engage with it.

For further assistance, UO Online & Canvas Support is available.
In-person: Room 68 PLC
By phone: (541) 346-1942
By email: uoonline@uoregon.edu
Chat with us at livehelp.uoregon.edu
Submit a Service Portal Ticket by clicking the Help button at the bottom of the Global Navigation Menu in Canvas.