SimCheck - Originality Checker
SimCheck - Originality Checker
SimCheck (a product of Turnitin) is the assignment originality checker tool for the University of Oregon.
SimCheck - Originality Checker Tool
SimCheck, is the originality checker tool for the University of Oregon.  You will be able to add this to assignments in Canvas.
Click the +Assignment to create an assignment. Add the instructions, points, assignment group and determine how you want Canvas to display the grade.
For the Submission Type select Online from the drop-down menu. When you select either Text Entry or File Uploads for the Online Entry Options you will get the Plagiarism Review window enabling you to turn it on by selecting SimCheck.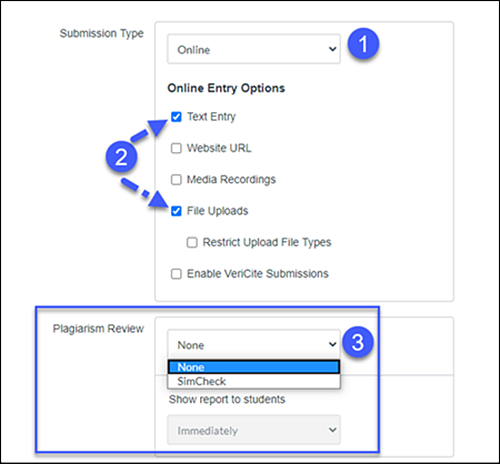 You will have a color indicator in your gradebook for a quick glance.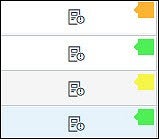 SpeedGrader also includes an indicator or originality by percentage, with a clickable link to an originality report.

When you click on the dot you will get the report from SimCheck. The color-coded report will highlight text from the paper showing you what is similar with the source being indicated in the  Sources Overview.  

When "uoregon" is listed as one of the sources, it means that some submitted content appears in another uoregon source. Clicking on Source will show you the material that is not original. Clicking on Details will share information about the student and the course associated with the source.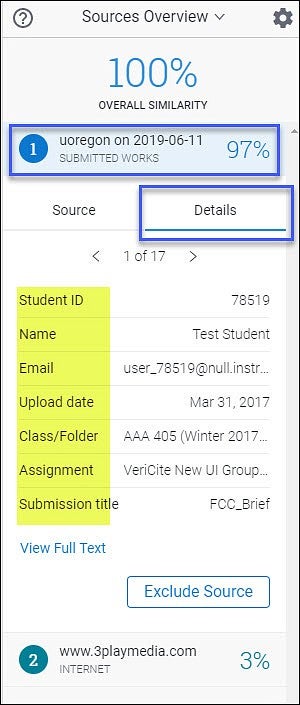 For further assistance, UO Online & Canvas Support is available.
In-person: Room 68 PLC
By phone: (541) 346-1942
By email: uoonline@uoregon.edu
Chat with us at livehelp.uoregon.edu
Submit a Service Portal Ticket by clicking the Help button at the bottom of the Global Navigation Menu in Canvas