iClicker Self-Paced Polling
iClicker Self-Paced Polling
Self-Paced Polling (SPP) allows students to answer up to 99 questions at their own pace using their iClicker.
Creating a Self-Polling Answer Key
Recommended best practice is to create an answer key before polling.
Select ​​​​​​New Answer Key [1] from the iClicker main app menu at the top of your screen.
Select the Number of Questions [2] (99 max).
Enter the correct Answers [3]. Answers can be A-E, numeric, or alphanumeric.
Assign each answer a Points value [4].
There is no need to select the answer type.
Select Save and give your answer key an easily identifiable Title [5] for later reference.
To edit the answer key later, select Self-Paced from the main iClicker menu then select Open Answer Key [6].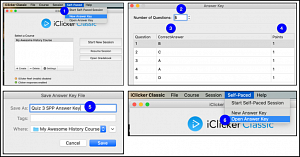 Starting a Self-Paced Polling Session
On the main iClicker app menu, select Start Self-Paced Session [1].
In the Self-Paced Polling Settings dialog box, you can set a time limit [2]. The default is No time limit as a time limit may not be necessary when doing a self-paced poll during class.
In the Answer key section, select I have an answer key [3]. Browse to select the correct Answer key from the Class folder in iClicker.
To begin polling, select Start Polling [4].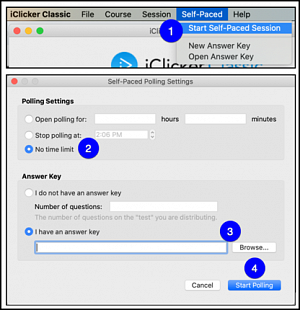 Running a Self-Paced Poll
When Polling starts, the Self-Paced Polling Toolbar appears. It shows:
A chart icon that allows viewing in real-time of student progress [1]
The time elapsed since self-paced polling started [2]
The number of completed self-paced polls [3]

When the self-paced poll is over, click on the Self-Paced Polling button on the toolbar to stop the poll. Also remember to close the toolbar by clicking on the X in the top left corner.
Self-Paced Polling Best Practices
Use Self-Paced Poling for low-stakes assessments.
Have students write their answers on paper and then transmit their responses with the iClicker.
Have students submit their answer sheet as a back-up.
For further assistance, UO Online & Canvas Support is available.
In-Person: Room 68 PLC
By phone: (541) 346-1942
By email: uoonline@uoregon.edu
Chat with us at livehelp.uoregon.edu
Submit a Service Portal Ticket by clicking the Help button at the bottom of the Global Navigation Menu in Canvas