How to Create an Announcement
How to Create an Announcement
This guide will show you how to create an announcement in your Canvas course.
Creating an Announcement in Canvas
Canvas has an announcement tool that allows us to send announcements to the students. Note your course must be published before you can send announcements or email to your students. 
In Canvas please click on the Announcements [1] link in the Course Navigation Menu.
To add your first announcement, click the "+ Announcement" [2] button, located on the right side of the screen.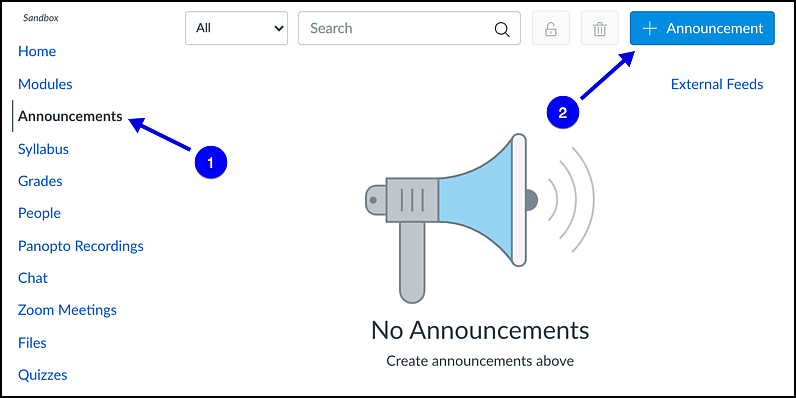 Type the title of your announcement in the box labeled Topic Title [3].
Type your message in the box below that. You can include files and images by using the More Options Icon ( ︙ ) on the menu bar [4].
Click the Save button to post your Announcement to the class [5].
Please note: Clicking Save will immediately post the announcement to your course site. To delay posting, select Delay posting under Options and enter the date and time you would like your announcement to post before clicking Save.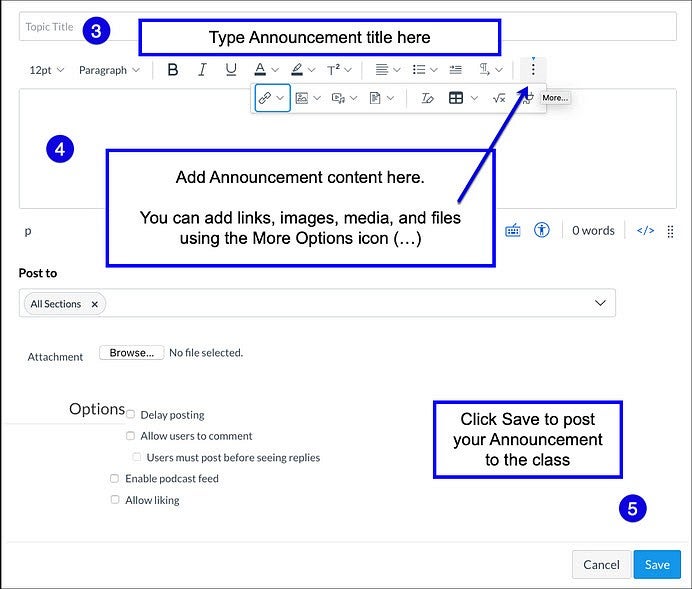 Tell your students that you will be communicating via Announcements and remind them to turn them on in the Course Notifications which can be found on the Home page.
For further assistance, UO Online & Canvas Support is available.
In-person: Room 68 PLC
By phone: (541) 346-1942
By email: uoonline@uoregon.edu
Chat with us at livehelp.uoregon.edu
Submit a Service Portal Ticket by clicking the Help button at the bottom of the Global Navigation Menu in Canvas.