How to Send Email in Canvas
How to Send Email in Canvas
This guide will show you how to send email in Canvas. Please note that your course must be published before you can send students an email or an announcement.
Sending email through Canvas
 First, and most importantly, your course must be Published in order for you to send messages to your class.
To send an email in Canvas click on the Inbox icon [1] on the Global Navigation Menu.
To create a new message, click on the Compose a New Message icon [2].

In the Course dropdown menu [3], select the course to which you would like to send a message. Courses that are on your Dashboard are listed under Favorite Courses [4]. All other courses are listed under More Courses.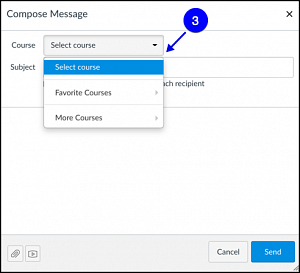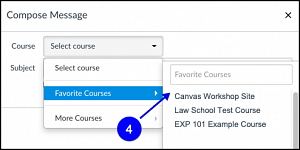 Clicking the box labeled "Send an individual message to each recipient" [6] is similar to the Blind Carbon Copy (BCC) feature in most email systems. Each recipient will receive the message, but won't see who else was included in the message. If you choose not to click this box, all the recipients will see the entire recipient list.
After you have composed your message, click Send [7].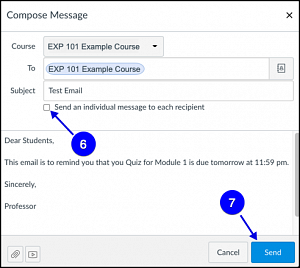 You can see your sent messages by choosing Sent in the dropdown menu [8].

If you would like to receive a copy of any messages you send, you will need to change your Canvas settings.
Click on Account [9], then Notifications [10]. Scroll down to Conversations and select the check mark next to Conversations Created By Me [11].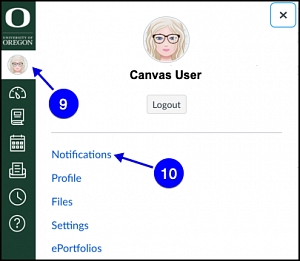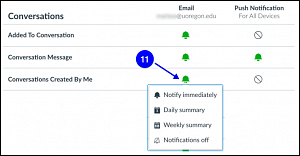 For further assistance, UO Online & Canvas Support is available.
In-person: Room 68 PLC
By phone: (541) 346-1942
By email: uoonline@uoregon.edu
Chat with us at livehelp.uoregon.edu
Submit a Service Portal Ticket by clicking the Help button at the bottom of the Global Navigation Menu in Canvas.