Creating and Using Canvas Pages
Creating and Using Canvas Pages
The Pages feature in Canvas allows users to present content and educational resources in one place. Pages allow users to frame content within greater course goals and break content into relevant smaller sections.
Creating a Page
To create a Page, first click on the Pages link [1] on the Course Navigation Menu then select +Page [2] from the top right corner.

A new page will appear, with space for a title as well as the Rich Content Editor (RCE).
In the top text box, a unique Page Title should be added.
In the Rich Content Editor, text can be typed or copied in. Other content, such as links to websites and documents or media can also be added.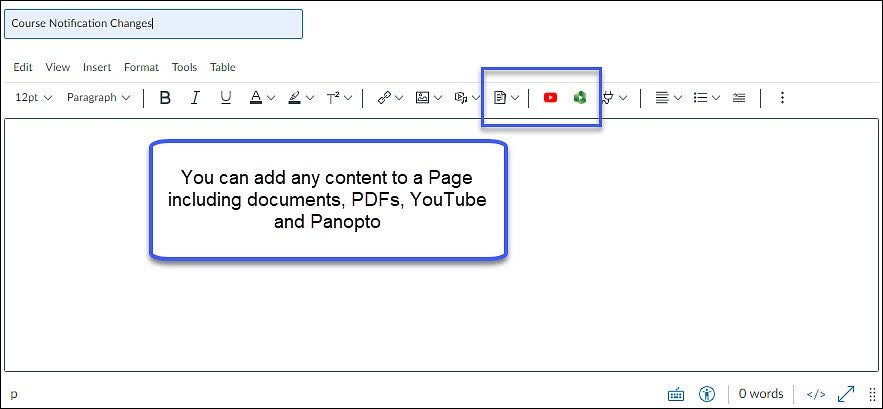 After content is added to the page, scroll down to Options. Options for editing the page [1], adding it to the student to-do list [2], or allowing the page in mastery paths [3] are available here.
Checking the boxes next to "Add to student to-do"[2] or "Allow in mastery paths"[3] will add the page in those lists.
For most pages, instructors should use the default Only teachers can edit this page. This will lock the page from being edited by anyone other than those users in the Teacher or Teaching Assistant role.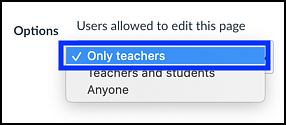 Once your options are selected, save the Page by either selecting Save & Publish or Save.
For further assistance, UO Online & Canvas Support is available.
In-Person: Room 68 PLC
By phone: (541) 346-1942
By email: uoonline@uoregon.edu
Chat with us at livehelp.uoregon.edu
Submit a Service Portal Ticket by clicking the Help button at the bottom of the Global Navigation Menu in Canvas