Change to Term Start / End Dates in Settings
Change to Term Start / End Dates in Settings
As you prepare to start or end your term in Canvas, please note there have been changes to the Participation options in Settings.
Start and End of Term Settings
What this means for you:
Participation, by default, is set to Term with a Start date of one week prior to the start of term. Please note: you cannot adjust this default setting.
You can publish your course any time after the Start
Your course will be available for students to fully participate when you publish the course.
The End date for your course is midnight of the day grades are due. After the End date, the course will become read-only for everyone. Please note: You will not be able to enter or change grades and students will not be able to submit work to the Canvas course site.
When a student has an incomplete and needs access to Canvas to complete the incomplete please submit a ticket to the UO Service Portal.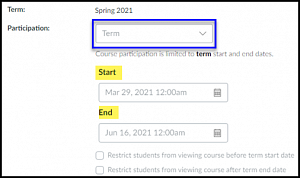 For further assistance, UO Online & Canvas Support is available.
In-Person: Room 68 PLC
By phone: (541) 346-1942
By email: uoonline@uoregon.edu
Chat with us at livehelp.uoregon.edu
Submit a Service Portal Ticket by clicking the Help button at the bottom of the Global Navigation Menu in Canvas