Using the Canvas Gradebook
Using the Canvas Gradebook
This guide will help you navigate the Canvas gradebook.
The Canvas Gradebook
The Gradebook features menus for navigation [1], with areas for student data [2] and assignment data [3].
You can access this assignment and student data through keyboard shortcuts [4].
You can find a specific student by typing into the search bar [5].
Finally, you can change settings for the Gradebook through the Gear icon [6].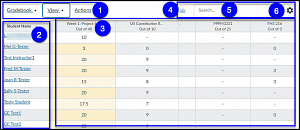 Late Policy
Setting a Late Policy and Grade Posting Policy for your course can be done through the Settings menu within the Gradebook.
To access the Settings menu click the gear icon by the search bar.
Under the Late Policies tab [1], you can automatically apply a grade for missing assignments [2] and apply automatic deductions for late submissions [3]. 
Please note the default grade for missing is 100% and that may not be what you intended.
Also know this is retroactive and cannot be undone, the new scores are there unless you manually adjust them one at a time.
*As the late policy affects all assignments, it is considered best practice to not include a late policy for your course.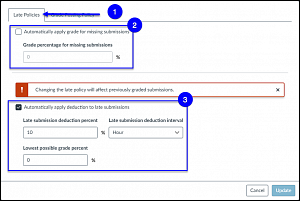 Grade Posting Policy
Under the Grade Posting Policy [1] tab, you can choose to automatically [2] or manually [3] release grades to students for assignments. Detailed information on the Grade Posting Policy can be found in the grade posting policy pdf.
File
best_practices_grade_posting_policy.pdf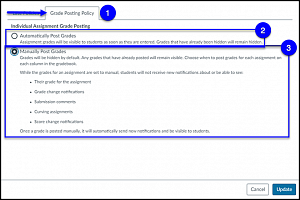 Gradebook Columns and Navigation
The Student Name column displays the first and last name of each student.
You can also display secondary information for each student, such as their login ID, group membership, and sections.
You can place your cursor in the Student Name column and the Other Options menu [︙] will appear allowing you to sort students, display by first or last name, or include secondary information. 
You can also show or hide your inactive enrollments here.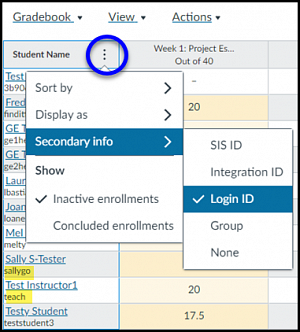 Assignment Columns
---
Assignment Columns are automatically created when graded assignments, quizzes, and discussions are created.
 Assignments can also be created by importing a new column into the Gradebook.
View the assignment name [1], total points [2], and student scores and assignment status [3].
The assignment column menu [4], provides options to sort grades, SpeedGrader access, Message Students Who, Set Default Grade, adjust the Grade Posting Policy, and Post / Hide grades.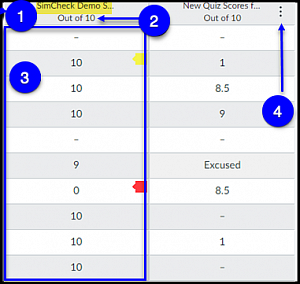 Totals Column
Totals are calculated for each Assignment Group [1], with the graded Total [2] displaying at the end of the Gradebook.
The name [3] and weight [4] of the Assignment Group is displayed at the top of each column.
You can sort grades via the menu at the top of the column [5].
The total grade [6] reflects what has been graded so far.
The eye with a slash icon means that at least one grade is hidden from student view so they do not see the same total in their view of grades.
If Assignment Groups are not weighted, you can view the total grade as points.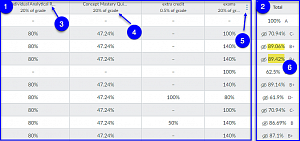 For further assistance, UO Online & Canvas Support is available.
In-Person: Room 68 PLC
By phone: (541) 346-1942
By email: uoonline@uoregon.edu
Chat with us at livehelp.uoregon.edu
Submit a Service Portal Ticket by clicking the Help button at the bottom of the Global Navigation Menu in Canvas