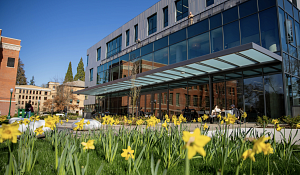 SUMMER TEACHING INSTITUTE
The UO Summer Teaching Institute is a banner event sponsored by the Office of the Provost and hosted by the Teaching Engagement Program and UO Online that convenes faculty for an intensive, multi-day focus on teaching.
This week-long, in-person event brings faculty together from all schools and colleges for inspiration, collegial connection, and the design of new courses and teaching materials. Faculty participate in specialized topical pathways, engage with online resources, and select from a lineup of workshops and presentations that bring UO's teaching community together around emerging topics. 
The 2022 Summer Teaching Institute, July 11-15, offers a celebratory return to an in-person program and time for reflection and purposeful action based on the extraordinary changes our teaching and learning community has undergone across two years of upheaval and adaptation. Faculty can engage with the Summer Teaching Institute through participating in a topical pathway and/or through attending the optional sessions listed below, which are open to all faculty.
For those interested in applying to and participating in topical pathways:
Two stipended ($1K) topical pathways --Hybrid Teaching and  Access for All: UDL, Usability, & Inclusive Design--are available for colleagues who can be with us for the week for deep focus . This opportunity is for both tenure-related and career faculty.  Successful completion of the Institute involves the completion of a course plan or new teaching materials. Pathway participants are invited to join the Provost's Teaching Academy.  
Time commitment for stipended participants: The program runs between 10 a.m. and 4:45 p.m. daily with coffee, lunch, and snacks served. Most morning sessions are optional. Ahead of the Institute, participants will take a teaching practices inventory as a reflective tool and engage with new asynchronous resources that are designed as an introduction to professional, inclusive, engaged, and research-informed teaching.
While the Summer Institute is currently not available to GEs, we will be hosting the GE Day of Teaching on September 21, 2022.
| title | host | date | TIME | RSVP |
| --- | --- | --- | --- | --- |
| Your Personal 'Why' | Sierra Dawson | Mon, Jul 11 | 10-11:40am | REGISTER |
| Bearing Witness as an Act of Love, Resistance, Hope, and Healing (keynote) | Dr. Mays Imad | Mon, Jul 11 | 2-3:30pm | REGISTER |
| Cultivating and Strengthening Your Resilience | Dr. Mariko Lin | Tue, Jul 12 | 10-11:30am | REGISTER |
| Open & Affordable Course Materials | Rayne Vieger, Ron Bramhall | Tue, Jul 12 | 3:45-4:45pm | REGISTER |
| Next Generation Student Success & the Tools to Get There | Kimberly Johnson | Wed, Jul 13 | 3:45-4:45pm | REGISTER |
| Teaching toward Wellbeing: A Faculty-to-Faculty Conversation | faculty-led | Thur, Jul 14 | 10-11:30am | REGISTER |
| Student Wellbeing Teaching Toolkit | Laurel Bastian | Thur, Jul 15 | 3:45-4:45pm | REGISTER |
all workshops will be held in Tykeson Hall room 32 
Bearing Witness as an Act of Love, Resistance, Hope, and Healing
Keynote address by Dr. Mays Imad
Monday, July 11, 2-3:30pm
Tykeson 32 
Register here 
How will we welcome students and colleagues to our institutions and classrooms in fall 2022 and beyond? What can we as educators do to attend to students' mental health and ameliorate their ongoing exhaustion and distress, while at the same time, intentionally engaging in self-care? We'll consider the power of knowledge and how understanding the neuroscience of toxic stress empowers us to self-regulate and help our students cope, engage, connect, and learn. We will examine the principles and practical examples of equity-centered trauma-informed approaches and reflect on the connections between trauma-informed education, healing, and restorative justice. Participants will walk away with concrete strategies they can use in their own courses and contexts to help their students' learning and success.  
Mays Imad is a Gardner Institute Fellow and AAC&U Senior Fellow within the Office of Undergraduate STEM Education. Her research focuses on stress, self-awareness, advocacy, and classroom community, and how these impact student learning and success. As an undergraduate, Mays studied philosophy at the University of Michigan-Dearborn; she later earned a Ph.D. in Cellular & Clinical Neurobiology from Wayne State University School of Medicine in Detroit. She completed a National Institute of Health-Funded postdoctoral fellowship in the University of Arizona's Department of Neuroscience. Mays joined the department of Life and Physical Sciences at Pima Community College in Tucson, Arizona in 2009. During her tenure at Pima, she taught Physiology, Pathophysiology, Genetics, Biotechnology, and Biomedical Ethics. She also founded Pima's Teaching and Learning Center (TLC). Mays now teaches in the biology department at Connecticut College.  
A nationally recognized expert on trauma-informed teaching and learning, she advocates for institutions to make mental health a top priority and to systematically support the education of the whole student. Mays has also received funding from the National Science Foundation (NSF) for her work on critical thinking in STEM courses.  
pastries, juice, and coffee served every morning 
Your Personal 'Why'
with Sierra Dawson, Associate Vice Provost for Faculty & Leadership Development
Monday, July 11, 10-11:30am
Tykeson 32
Register here
This session is a chance to re-connect with the deep and abiding goals and values you bring to your teaching—and all aspects of your life. Join experienced facilitator Sierra Dawson as she invites faculty into a series of reflections meant to help surface a succinct personal "why" that can serve as a north star in teaching decisions and beyond. 
Cultivating and Strengthening Your Resilience
with Dr. Mariko Lin, UO Counseling Services
Tuesday, July 12, 10-11:30am 
Tykeson 32
Register here
As we've experienced more than two academic years during a pandemic, cultivating and strengthening one's resilience is more important than ever. Whether you're in a cycle of burnout or finding motivation to reengage, join this practical session as a reminder of how we can take better care of ourselves in our daily lives. We hope our faculty can identify how to more effectively channel their energy to endure when challenges arise and identify areas of strength to continue navigating this new normal.
Teaching toward Wellbeing: A Faculty-to-Faculty Conversation
Thursday, July 14, 10-11:30am
Tykeson 32
Register here
Join us for a facilitated discussion about concrete strategies you and your colleagues are using to adapt teaching to support student wellbeing—and your own—in response to ongoing pandemic and societal stressors. What does "flexibility" mean now? What are your goals for fall 2022 and beyond related to bolstering students' college knowledge, sense of presence in their classes, and overall wellbeing? Take stock with colleagues about fundamental shifts in how we teach and how students learn.
Student Wellbeing Teaching Toolkit 
with Laurel Bastian, UO Teaching Engagement Program 
Thursday, July 14, 3:45-4:45pm
Tykeson 32
Register here
What are those actions faculty can take as helpers, not clinicians, to support student wellbeing? The session will synthesize national and UO-specific data about student wellbeing and why it matters, and offer a range of strategies, pre-made tools, and draft language to support student wellbeing in the context of your courses. Have you been wanting to dig into the Student Wellbeing Teaching Toolkit? This session is the perfect opportunity to interact with its core ideas and brainstorm applications with colleagues. 
Open and Affordable Course Materials 
with Rayne Vieger, UO Libraries' Coordinator for E-Learning & OER Ron Bramhall, Associate Vice Provost for Academic Affairs 
Tuesday, July 12, 3:45-4:45pm 
Tykeson 32 
Register here  
Open Educational resources (OER) are free and openly licensed course materials that can be used to support teaching and learning. In this session, we'll share why some faculty at UO use OER and what they see as the benefits (in addition to the very important benefit of affordability for students). We'll share examples from UO faculty OER adopters and authors, and participants will spend some time exploring OER in their field. 
Next Generation Student Success and the Tools to Get There 
with Kimberly Johnson, Vice Provost, Undergraduate Education & Student Success Austin Hocker, TEP Director, Research & Assessment Grant Schoonover, Assistant Vice Provost for Academic Success 
Wednesday, July 13, 3:45-4:45pm 
Tykeson 32 
Register here
UO is re-invigorating its student success focus as part of the Next Generation Student Success Initiative, which focuses on student retention, equitable outcomes for an increasingly diverse student population, and transformative student experiences that enhance academic and career success. Join us to learn about this effort, see new data tools to support the university's progress, and reflect on the first NGSS recommendations, which are meant to heighten UO students' career readiness.   
Our pathway topics this year
Hybrid courses allow us to blend the best parts of in-person and asynchronous online courses. Distinct from remote, online, or HyFlex, hybrid courses replace some classroom time with asynchronous online activity. Join this pathway to redesign an existing course for hybrid delivery and participate in a faculty pilot where you'll explore and advance best practices in hybrid teaching at UO.  
With a support network of colleagues, instructional designers, and consultants, you will learn about the opportunities and challenges of teaching a hybrid course, workshop what you want to teach asynchronously and what to teach in-person, and brainstorm strategies for making effective connections across the two modalities and maximizing the distinctive affordances they offer. Participants will leave the pathway with a full course map outlining all planned revisions and one completed module that purposefully connects all course activities and assignments across both modalities. An additional $1,500 stipend will be paid when the fully developed hybrid course is taught the first time.  
Access for All: 
UDL, Usability, & Inclusive Design
This pathway explores practices that create more accessible and inclusive classes for all students, particularly students with disabilities and/or neurodivergent students. Learn about and put into practice the principles of Universal Design for Learning (UDL), Inclusive Design (ID), and web accessibility. We'll also examine and contextualize the pressing need for greater accessibility in higher education generally and for students at UO specifically. Participants will analyze barriers to accessibility in their own courses and select and enact strategies to remove those barriers. 
The goals, structure, and content in this pathway are informed by (1) conversations with units and individuals impacted by and working around accessibility issues on campus, (2) the needs and recommendations identified by students, (3) the knowledge that designing for access improves outcomes for all, and (4) a social and cultural disability lens.  
Past Pathways
Designing New Approaches to Assessment
Mixed Modalities
Teaching Difference, Inequality, and Agency: This pathway discussed challenging and socially and intellectually urgent teaching and learning linked to UO's new undergraduate United States: Difference Inequality, Agency, and Global Perspectives requirements.
Teaching First Year Students: This pathway discussed the particular needs of first year students, such as the needs to feel they belong at the university and in their courses, to be part of a community, and to develop study skills and college knowledge; the group then discussed approaches faculty can take to address those needs.
Transformative Core Education: This pathway discussed strategies for teaching key transferable skills of a liberal arts education, working with students who resist taking required courses, and boosting student learning through the incorporation of "high impact" practices and pedagogies.
Teaching Online: 
This pathway discussed the building blocks for high-quality online courses, helped faculty to begin developing their own online courses, and connected them to a support structure designed to take them from planning through delivery and revision. The entire 2020 institute was devoted to developing fully online courses as part of UO's 
Online Course Development Initiative
.
Past Workshops
Teaching Toward Inclusion and Belonging
Aligned Course Design
Research-Led Practices to 'Activate' a Class
Student Metacognition
What Should be Different about Teaching at a Research University?