Panopto Video Assignments
Panopto Video Assignments
The ability to submit videos as assignments using Panopto Capture is available to students. Here are the steps for creating and grading Panopto video assignments. Students can learn more about submitting Panopto video assignments on the Submitting a Video Assignment How-To.
Create Assignment in Canvas
The image below shows the key settings to use when creating an assignment where students submit their video/audio files using Panopto.  The Submission Type must be set to Online - Text Entry.  All other settings are filled in as they would be on any other assignment.  If it is a group assignment, create the assignment as a group assignment and set Submission Type to Online - Text Entry.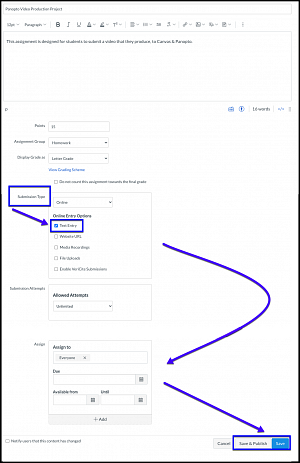 Grading a Panopto Video in Canvas
The Panopto Videos students submit can be graded using the SpeedGrader. This allows the instructor to make comments and submit a grade to the Gradebook. To make more specific comments on the submission at different points on the video timeline, a Word document could be created and then attached in SpeedGrader. 
Go to the Assignment in Canvas.
On the Assignments Page, open the Assignment and then click on Speedgrader.
OR in Grades  click on the three dots (the Kabob) next to the Assignment name at the top of the grade column and then select SpeedGrader
Add comments in the Comments text box or using any of the other feedback options
Enter a grade 
Click Submit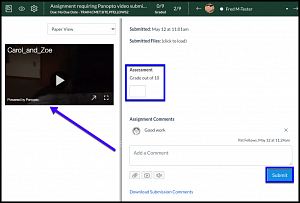 For further assistance, UO Online & Canvas Support is available.
In-Person: Room 68 PLC
By phone: (541) 346-1942
By email: uoonline@uoregon.edu
Chat with us at livehelp.uoregon.edu
Submit a Service Portal Ticket by clicking the Help button at the bottom of the Global Navigation Menu in Canvas