Copying Content From Another Canvas Course
Copying Content From Another Canvas Course
This guide will show you how to copy course content from one site to another by importing.
Importing content
On the Home page of your Canvas course (either on the right side or the bottom of the screen if you are on a narrow monitor) select the Import Existing Content button.
On the next page, from the Content Type drop-down menu, select Copy a Canvas Course.
Then type in the information for the course from which you would like to copy content [i.e. LAW 301, ANTH 426, etc.] into the Search for a Course field if you can't use the dropdown menu.
Then, check the box for Select Specific Content.  
Click Import.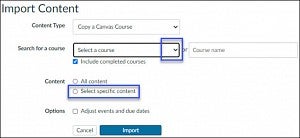 ---
Under Current Jobs, your course copy will be pending your selection of content. Click the blue Select Content button.

From the menu that appears, select the content you need (i.e. Modules) and click Select Content.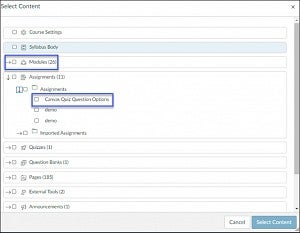 After a short time, you will see your job marked Completed.  Your selected content is now in your current course. Go check it out!
For further assistance, UO Online & Canvas Support is available.
In-Person: Room 68 PLC
By phone: (541) 346-1942
By email: uoonline@uoregon.edu
Chat with us at livehelp.uoregon.edu
Submit a Service Portal Ticket by clicking the Help button at the bottom of the Global Navigation Menu in Canvas