Canvas Commons is a repository for instructors to share learning materials they've created with their peers at the University of Oregon. Canvas Commons allows instructors also to find and import educational content shared by others into their Canvas course. Canvas Commons accepts learning objects from Canvas - from full courses to specific Modules, Quizzes, Assignments, Discussions, Pages, and documents.
You have access to Commons if you have an instructor role in at least one Canvas course.

Who Can Access Content in Commons
Because Canvas Commons is an open access repository within the University of Oregon, content uploaded to Commons is available to a wide range of UO faculty, GEs, staff, and student employees.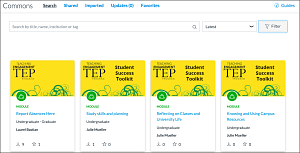 Users do not have the ability to restrict access to content uploaded to Commons. Therefore, please consider using the Canvas Send-To functionality if you have content to share with specific colleagues that is not intended for the university community.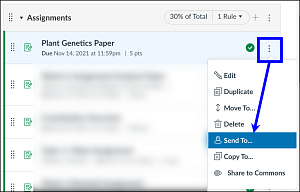 Why Use Canvas Commons
Canvas Commons is a useful tool for sharing best practices, templates, resources, and multimedia material to enhance a course. It allows instructors to showcase innovative teaching materials, explore new ways to deliver course content, and share reusable learning objects with the University of Oregon teaching community.
You might consider using Commons if:
You have developed an effective learning object (Assignment, Quiz, Module, etc.) that will be used in multiple courses in your department. Sharing that object in Canvas Commons will allow all department faculty to quickly review and download it to their course.
You are looking for a resource or template created by TEP or UO Online that can help streamline your online course.
You are teaching a new course and are not sure how you would like to structure it, so you want to see examples from other instructors. You can search Canvas Commons to browse shared courses.
Canvas Commons is what we collectively make it. As more faculty and departments share content, we will build a robust learning repository to help streamline Canvas course design and course-building.
Accessing, Using, and Sharing Content to Commons
Where can I access Commons?
You can access Commons from the Commons icon on the Global Navigation menu.
The first time you access Commons, you will be asked whether it is allowed to access your Canvas account. Click Authorize to proceed.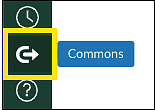 Who can use Commons?
Anyone at UO who has at least one course in which they have the role of Teacher, TA, Grader, Designer, Learning Assistant, or Admin Staff. If students or observers had one of the roles in a current or past course, they will have access to the entirety of Commons.
How do I share a resource to Commons?
In Canvas go to the item you want to share and click on the three vertical dots and select Share to Commons.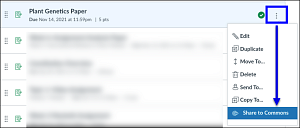 On the Sharing and License screen, complete the following sections. Items marked with an asterisk (*) are required. 
* Who can use this resource? Select the All of University of Oregon option to share your resources with the entire UO Canvas community.

Select the Only Me option if you are using Commons to save and iterate resources you are working on such as assignments or quizzes and do not yet want to share them with others.

If you want to share your resource in both the Academic and Community instances of Canvas Commons, check the Select Consortium(s) box and then check the box for UO Academic and Community Canvas.

Content Type This is an optional section where you can indicate if your resource(s) is/are a template or an open textbook. You can select both as appropriate. 

* License Decide how you want others to use your material. Use the Help Me Choose link to learn more about licenses.
* Title The title of your resource will auto-populate. You can edit the title of your resource if necessary.
* Description Enter a description for your resource. If you plan to share your resource with other users, be as descriptive as possible.
Tags Enter tags to make it easy for other users to find your resource (at least one tag is required). For example, you could add a STEM or Writing tag.
* Image Give your resource a distinctive look by selecting an image from Unsplash or uploading your own image.
Finally, set the Grade/Level for your course. 
Select Save to add your resource to Commons.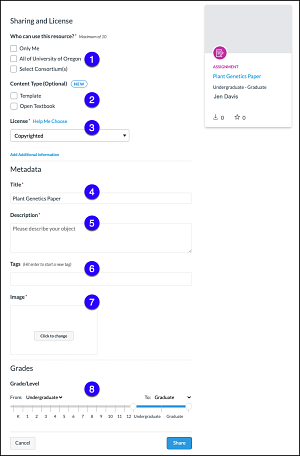 Importing Content from Commons into your Canvas Courses
Log into Canvas and look for the Commons link in the left-hand Global Navigation menu [1].
Items uploaded to Commons will display as cards in the initial view.
You can search by the resource title or the creator's name [2]. You can also filter by item type [3].
To view an item's content, select the resource title [4].
The Preview tab displays the content of the item you've selected.
Modules uploaded to Commons will display the Module contents [5].
In the example to the right, this Module has 1 assignment, 10 pages, 2 discussions, 1 quiz, and 2 files. Importing this Module will import all of these items.
You can preview any item by selecting the item's title [6].
To Import the item into your course, select the Import/Download button [7].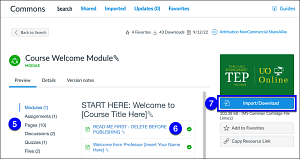 Select the course (or courses) you'd like to import the item to [8] then select Import into Course [9].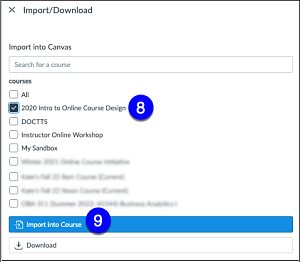 The imported item will appear in your Course. Look for imported Modules in Modules. Imported Pages, Assignments, Quizzes, etc. will be found in those sections of your Canvas Course.
Suggested Best Practices for Using Canvas Commons
When sharing content to Commons:
Do not share exams, quizzes or answer keys to Canvas Commons

We recommend that you share these items directly with other instructors using the Send To feature in Canvas instead

Do not share any content that includes instructor or student identifiers
Do not share content to Commons that is not yours
Consider adding an optional license to facilitate reuse
Use tags 

Tags make it easy for other users to find your resource. You must add at least one tag to add a resource to Commons. Adding relevant tags is very important when you share your resource.

Recommended tags: 

Course number, if relevant (e.g. BA 101)
College, Department, or Unit (e.g., Anthropology, UO Online) 
Relevant keywords (e.g. rubric, assignment, tutorial)
Select default filters 

Users can select filters to help narrow their search for shared content. Consider adding the Content Type (1) as Template and/or Open Textbook and the Grade/Level (2) as Undergraduate and/or Graduate to help users who may search by those filters.
Before uploading any content from your course, ensure all items specific to your course are removed including:

Faculty and student identifiers
Dates
References to term
References to other course materials that you are not uploading (files, assignments, etc.)
Any information you do not want available to the wider Canvas community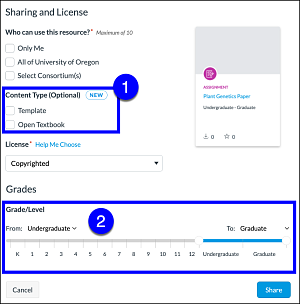 When importing and using Commons content: 
Review the material and edit as needed

Ensure the content is applicable to your specific course and learning objectives
Thoroughly review the resource for any details that do not apply to your class specifically and remove them
Fill in any blanks on templated materials

Mark as "Favorite" any resources you may want to come back to later
Additional Commons FAQs
Can I preview resources in Commons?

Yes, click the Commons button in your Global Canvas navigation. You can filter the options to narrow your search. When you find an item you want to preview, click on the title.

Can I share resources between Canvas and Community?

Yes, you can share resources between Canvas and Community. Follow the instructions indicated under "How to share a resource or your course to Commons". On the Settings page select to share with Consortium and Commons Community.

Can I edit or remove a resource in Commons?

Yes, go to Commons and click on the item to display it and you will have a delete this item option.

Are there reviews for resources in Commons?

Yes, there may be reviews for resources in Commons and you can write a review for a resource in Commons. Go to the item you are evaluating and select the Details tab. Reviews will be found there and you can write a review as well.

What is a license in Commons?

A license specifies the terms of how a work can be used and adapted. By default, your work will be copyright-protected, but you also have the option of assigning an open license to your work, which still provides copyright protection, but also allows you to extend a set of permissions for how others may use and adapt your work.

Which license should I choose?

By default, your work will be copyright-protected, but you also have the option of assigning an open license to your work. Assigning an open license still provides copyright protection, but also allows you to extend a set of permissions for how others may use and adapt your work. Not sure which license to choose? Click on the Help Me Choose link within the Commons upload interface to read about the license types. Select carefully; Once a license is assigned, it stays with the work in permanently.

 

How do I add to Favorites in Commons?

You can keep track of your favorite resources by adding resources to your Favorites list. On the resource details page, click the Add to Favorites button. 

How do I manage Favorites in Commons?

To view or manage your favorite resources, go to the Favorites page from the top navigation menu. On the Favorite page you can remove a resource from the list by unstaring it. 

Where can I find more information about Commons?

Canvas provides several Guides to Commons on their Canvas Commons website.