The UO Summer Teaching Institute is a banner event sponsored by the Office of the Provost and hosted by the Teaching Engagement Program and UO Online that convenes faculty for an intensive, multi-day focus on teaching. This week-long, in-person event brings faculty together from all schools and colleges for inspiration, collegial connection, and the design of new courses and teaching materials. Faculty participate in specialized topical pathways, engage with online resources, and select from a lineup of workshops and presentations that bring UO's teaching community together around emerging topics.  
2023 Summer Teaching Institute
---
July 10-14
---
This year's event offers faculty a time for reflection, community, and purposeful action based on the felt needs and challenges of teaching. We hope the carefully curated activities, resources, and opportunities will be experienced as an energizing gift to UO's dedicated teachers. Faculty can engage with the Summer Teaching Institute through participating in a topical pathway and/or through attending the morning sessions, which are open to all faculty. 
APPLY FOR A TOPICAL PATHWAY
Two stipended ($1K) topical pathways—Hybrid Teaching and Access for All—are available for colleagues who can be with us for the week for deep focus. This opportunity is for both tenure-related and career faculty.  Successful completion of the Institute involves the completion of a course plan or new teaching materials. Pathway participants are invited to join the Provost's Teaching Academy.   
Time commitment for stipended participants: The program runs between 10 a.m. and 4:30 p.m. daily with coffee, lunch, and snacks served. Ahead of the Institute, participants will take a teaching practices inventory as a means to reflect on their own professional, inclusive, engaged, and research-informed practices. 
Pathway application deadline is May 19. Applicants will be notified of their selection status by May 26.
THEME AND SCHEDULE
This year's Summer Teaching Institute is organized around a multi-layered theme we've called Gifts of Teaching. We aspire to facilitate rich and supportive conversations, providing the gift of dedicated time to recharge, to be inspired, and to tackle thorny teaching challenges alongside colleagues. Each morning will offer optional gatherings and activities to jumpstart your day with colleagues and friends. We invite all UO faculty to join pathway participants at 10am daily for topical workshops such as Making Canvas Work for You, Facilitating Dialogue, and Writing to Reflect.  At 11:30 each day, we'll feature poster sessions and micro-presentations by university faculty, offering the gift of shared practices and resources.  
Focused pathway sessions will convene Monday through Friday from 1 to 4:30pm.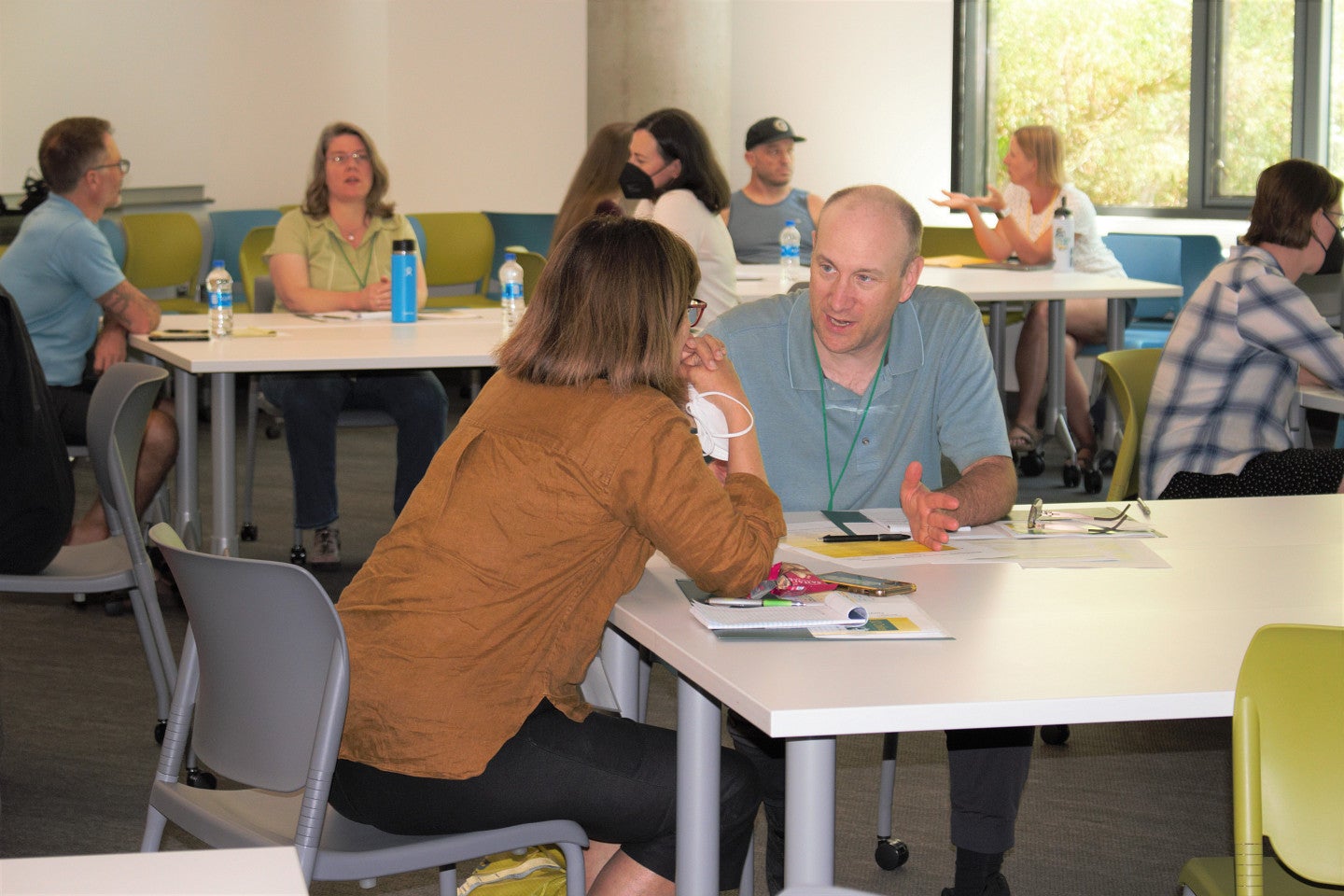 All-Faculty Workshops
All UO faculty are welcome to join us for these sessions:
Maximizing Your Canvas Site 
Making 'Flexibility' Work for You and Your Students 
Deepening Dialogue  
Writing to Reflect
Our pathway topics this year
At the University of Oregon, hybrid courses combine the best of in-person and asynchronous online learning. Unlike hyflex, synchronous remote, and dual-location courses, they replace some classroom time with asynchronous online activity for all students. Join this pathway if you want to redesign an existing course for hybrid delivery and participate in an ongoing faculty pilot where you will explore and advance best practices in hybrid teaching at UO.  
With a support network of colleagues, instructional designers, and faculty consultants, you will explore the opportunities and challenges of teaching a hybrid course. You will workshop what parts you want to teach asynchronously and what to teach in-person, and brainstorm strategies for creating effective connections across the two modalities and maximizing the distinctive affordances they offer. You will leave the pathway with a full course map outlining all planned revisions and one completed module that purposefully connects all course activities and assignments across both modalities. An additional $1,500 stipend will be paid when the fully developed hybrid course is taught the first time.  Please note: this pathway is only open to first-time Hybrid Pathway applicants. If you participated in the 2022 Hybrid Pathway, we encourage you to apply for the Access for All pathway. 
Take time this summer to explore Universal Design in Higher Education to address accessibility needs that faculty and students continue to identify. If you have felt the challenge of responsibly addressing the diverse learning needs of your students, this pathway is for you. The principles and practices the pathway features can save you time and reduce the pressure to tailor your course to numerous individual student needs. To help you maximize these principles and practices we'll offer approaches to designing towards access for all, including students who identify as having a disability and/or as neurodivergent. 
Join a supportive community of your peers to expand your pedagogical approach. In this pathway, you will learn how to customize content to foreground flexibility as an actionable way to plan and run your course. You'll explore alternate assignment design to acknowledge and support different ways that students learn in your courses. Our weeklong conversation ultimately will allow you to identify barriers, network solutions, and build courses that reduce some of your stress and support student success. 
Past Pathways
Designing New Approaches to Assessment
Mixed Modalities
Teaching Difference, Inequality, and Agency: This pathway discussed challenging and socially and intellectually urgent teaching and learning linked to UO's new undergraduate United States: Difference Inequality, Agency, and Global Perspectives requirements.
Teaching First Year Students: This pathway discussed the particular needs of first year students, such as the needs to feel they belong at the university and in their courses, to be part of a community, and to develop study skills and college knowledge; the group then discussed approaches faculty can take to address those needs.
Transformative Core Education: This pathway discussed strategies for teaching key transferable skills of a liberal arts education, working with students who resist taking required courses, and boosting student learning through the incorporation of "high impact" practices and pedagogies.
Teaching Online: 
This pathway discussed the building blocks for high-quality online courses, helped faculty to begin developing their own online courses, and connected them to a support structure designed to take them from planning through delivery and revision. The entire 2020 institute was devoted to developing fully online courses as part of UO's 
Online Course Development Initiative
.
Past Workshops
Teaching Toward Inclusion and Belonging
Aligned Course Design
Research-Led Practices to 'Activate' a Class
Student Metacognition
What Should be Different about Teaching at a Research University?