Show Announcements on Home Page
Show Announcements on Home Page
This guide will show you how to change your Settings to show Announcements on the Home page of your course.
Adding Announcements to the Homepage
If you have your Home Page set to Course Activity Stream, students will always see your Announcements right when they log in. However, if you want to use a Home Page other than Course Activity Stream, such as Syllabus, Modules, or a specific Page, you can change your course settings to allow Recent Announcements to display on that Home Page.
Click on Settings [1] at the bottom of your Course Navigation Menu. It should open on the Course Details [2] tab.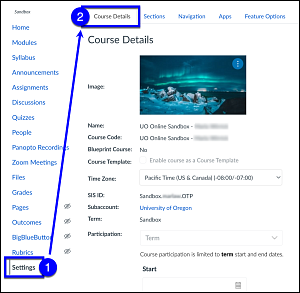 In the Course Details tab, scroll to the bottom and click More Options [3].

Check the box next to Show recent announcements on Course home page [4]. You can also set the number of announcements you want to show on the homepage here.
Click Update Course Details [5].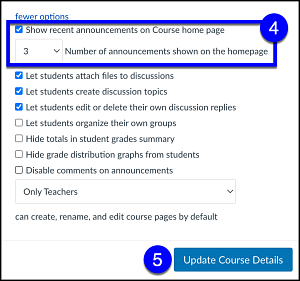 Your most recent announcements will now show at the top of the Home Page.

For further assistance, UO Online & Canvas Support is available.
In-person: Room 68 PLC
By phone: (541) 346-1942
By email: uoonline@uoregon.edu
Chat with us at livehelp.uoregon.edu
Submit a Service Portal Ticket by clicking the Help button at the bottom of the Global Navigation Menu in Canvas.