Personal Pronouns in Canvas
Personal Pronouns in Canvas
All users can add personal pronouns to their Canvas user account. Someone's personal pronouns may be different from what others initially presume. Sharing your pronouns and asking people's pronouns is a valuable practice that shows respect for the people with whom you interact.
Setting Your Personal Pronouns
Open User Settings by selecting the Account link [1] on the Global Navigation Menu and then selecting the Settings link [2].
Once set, personal pronouns will be displayed after your name in various areas in Canvas including:
Assignment Peer Review
Comment Fields
Discussions
Inbox
People Page
SpeedGrader
Student Context Card
User Navigation Menu
User Profile
User Settings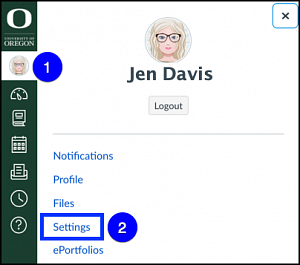 Select the Edit Settings button to edit your settings. Depending on your screen size, this may be at the right of your profile screen or at the bottom of the screen.
Select your preferred personal pronouns in the Pronouns drop-down menu.
Notes: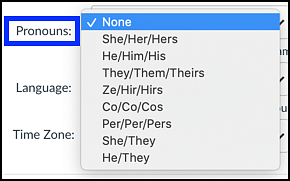 Select the Update Settings button to save your updated settings.

You can view your personal pronouns in your User Settings. Your personal pronouns will now appear next to your name in areas throughout canvas.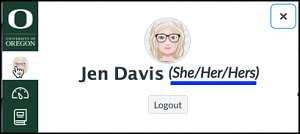 For further assistance, UO Online & Canvas Support is available.
In-person: Room 68 PLC
By phone: (541) 346-1942
By email: uoonline@uoregon.edu
Chat with us at livehelp.uoregon.edu
Submit a Service Portal Ticket by clicking the Help button at the bottom of the Global Navigation Menu in Canvas.