Managing Canvas Course Files
Managing Canvas Course Files
The Files tool in Canvas provides online storage and file sharing in three places: Personal Files and Course Files.
Course File Storage
Course file storage includes all files in a course's Files that are unique to UO's Canvas system, and the course's assignment submissions. 
To see your course's current file size, follow the step by step guide below. 
Please Remember
Media can require a lot of file space. See Managing Media Files for tips on how to manage your videos, PowerPoint files, and other media content.
Files that are uploaded directly into Course Files count toward the Course storage limit.
It is a best practice to restrict course file access from students by hiding the Files link or locking course folders and files so they won't be visible to students.
Personal File Storage is set at a default of 100 MB per user. Files that count against the personal storage limits are as follows:
Files uploaded directly into your personal file storage area
Files uploaded to ungraded assignments
Files uploaded to ungraded discussions
Files attached to "Conversations" (Inbox/Email)
Storage in Canvas is intended only for UO course and group work.
Viewing Personal Course Files in Canvas
1. Click on the icon for your account in the Global Navigation bar to the very left of your Canvas site
2. Click on the Files link
3. Click My Files 
4. The following files contribute to your personal limit:
Conversation Attachments (email attachments) - these can be deleted
Files you upload to your personal Files area and files that are uploaded to Ungraded discussions. Deleting a file that was added to an Ungraded discussion will no longer be associated with that discussion post
5. Note that the amount of file space used is shown at the bottom, below all folders
After deleting files, refresh the screen to see the updated file space used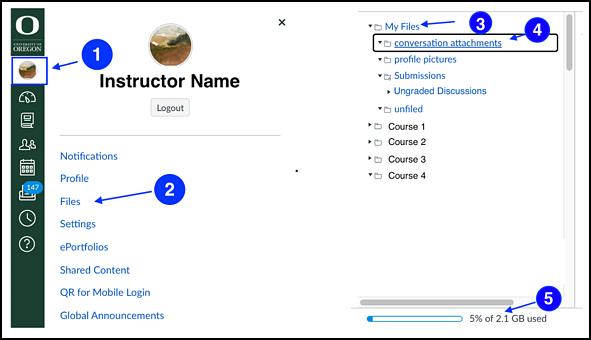 Student Submitted Files
Student submitted files count toward Course File limit, not the student's Personal File limit.
Canvas stores only one instance of a file.
A file counts toward Course Files limit in the course where it was originally uploaded.
Copies of a file are linked to the original file, saving file space in Canvas.
Course content that is copied into a new course does not count toward the new course's File limit.
Video and audio recordings created directly in Canvas with the Canvas Record/Upload Media tool are stored on a separate media server, and do not count in the course limit.
For further assistance, UO Online & Canvas Support is available.
In-Person: Room 68 PLC
By phone: (541) 346-1942
By email: uoonline@uoregon.edu
Chat with us at livehelp.uoregon.edu
Submit a Service Portal Ticket by clicking the Help button at the bottom of the Global Navigation Menu in Canvas