How to Start a Zoom Meeting From Canvas
How to Start a Zoom Meeting From Canvas
This guide will help you start your Zoom meeting from Canvas.
If you need general Zoom support not specifically using Canvas, such as account or licensing information, software updates, integrations with other software (Outlook), and using the HIPAA client please see these Information Services Zoom Pages
Starting your Zoom Meeting in Canvas
When a Zoom meeting (one-time or recurring) is scheduled in Canvas, those meetings will be available to students and instructors in the Zoom Meetings tool [1], on the Upcoming Meetings [2] tab. Select the meeting and click the Start [3] button to begin the meeting.
After clicking on Start a browser window will open.
If you have the Zoom app installed, a dialog box will appear at the top of the page with an option to Open zoom.us [4]. Select this option to open the Zoom App.
If the Zoom app is not installed, and you want to use a browser, select Launch Meeting [5]. This will launch the meeting in a browser. If this option is not visible, click on Cancel next to the Open Zoom.us [4] option to see the Launch Meeting link.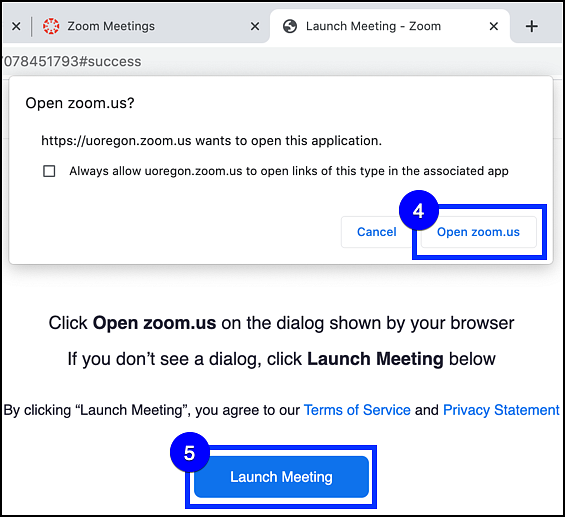 Once the meeting launches remember to:
Make sure your mic is not muted [1]
Turn on video, if desired [2]
Type welcome note to everyone in Chat [3]
When ready, begin recording [4]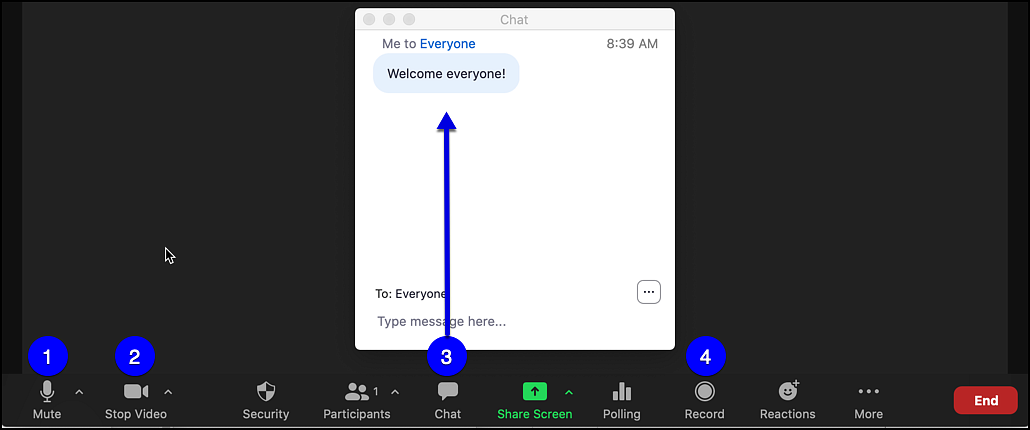 For further assistance, UO Online & Canvas Support is available.
In-Person: Room 68 PLC  
By phone: (541) 346-1942  
By email: uoonline@uoregon.edu  
Submit a Service Portal Ticket (opens in a new tab). This form can also be accessed in Canvas from the Help button at the bottom of the Global Navigation Menu.