How to Post Your Syllabus to Canvas
How to Post Your Syllabus to Canvas
This guide will show you how to post your syllabus to Canvas.
Posting your syllabus
Select the Syllabus link [1] in the left-hand navigation menu in Canvas.
Click Edit [2] on the Course Syllabus page.

In the Syllabus Description [3] you can type information like, "Please read the course syllabus".
After adding your notes in the Syllabus Description box, click on the Files [4] tab and select the Upload Document to upload your syllabus.
You will now be able to Choose a file from your computer. After you have uploaded the syllabus file, click the Upload button and the file will then be placed in the syllabus description box.
To save your work, click Update Syllabus [5].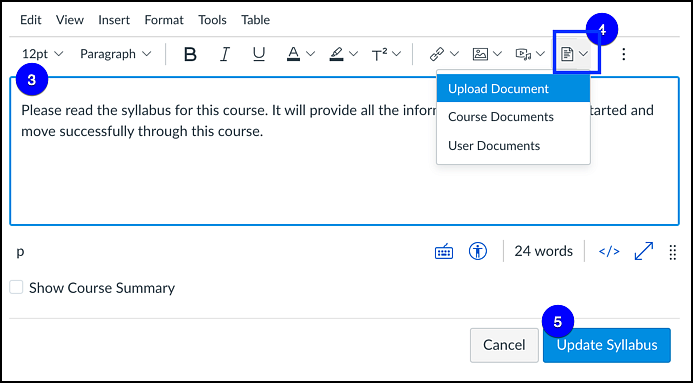 Recommended Statement to include in your syllabus:
"In the event of a campus emergency that disrupts academic activities, course requirements, deadlines, and grading percentages are subject to change. Information about changes in this course will be communicated as soon as possible by email, and on Canvas. If we are not able to meet face-to-face, students should immediately log onto Canvas and read any announcements and/or access alternative assignments. Students are also encouraged to continue the readings and other assignments as outlined on this syllabus or subsequent syllabi."
For further assistance, UO Online & Canvas Support is available.
In-Person: Room 68 PLC
By phone: (541) 346-1942
By email: uoonline@uoregon.edu
Chat with us at livehelp.uoregon.edu
Submit a Service Portal Ticket by clicking the Help button at the bottom of the Global Navigation Menu in Canvas