Adding Panopto Videos to a Canvas Course
Adding Panopto Videos to a Canvas Course
Panopto videos can be added to most Canvas tools by either embedding or linking to the video.
Embedded videos are visible/watchable on the Canvas page/quiz/discussion/announcement/assignment, etc.  This allows you to provide framing information about the video and the purpose of watching it.
Linking to a video in the Rich Content Editor (RCE) is another option. This will open the video in a new tab in the Panopto Viewer, and thus provide access to all the Panopto viewing tools. 
To Embed a Video
In any Rich Content Editor (Page, Announcement, Discussion, Quiz, Assignment, etc.) complete these steps:
Write an introduction for the video.
Click on the Panopto icon on the editor. 

Scroll through the list of videos and select the video to embed. [1]
In the Video Embed Options

Leave all settings except the size of the video which can be reduced to 350 wide x 197 high. (Note that changing the width of the video will update the height automatically, retaining the Aspect Ratio) [2].
Click on Insert to embed the video[3].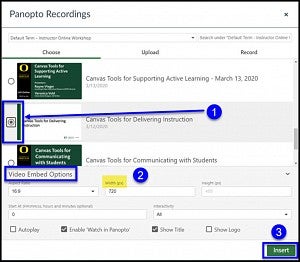 When embedding videos, remind students to use the Watch in Panopto button (shown below) on an embedded video toolbar to open the video in a new browser making all the Panopto Tools available to the viewer.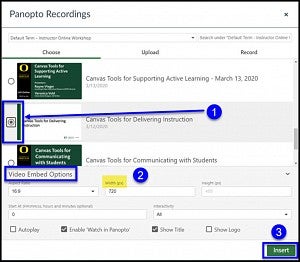 To Link to a Video
Linking to the video will open the Panopto Viewer in a new tab in the browser.  Because the viewer is opened, the students will have access to Captions, Notes, Discussions and other Panopto Tools.
To link to a Panopto video in Canvas:
Select Panopto Recordings on the Course Navigation Menu
Hover the mouse over the video to link to and select the Settings button

Select Share on the Settings Menu. [1]
Click on Link and copy the link. [2]
Click on the X to close the window. [3]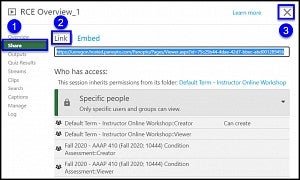 Return to the Canvas course and the tool where the link should be added.
If it is in the Rich Content Editor (RCE), type a descriptive name for the link, select the text , and click on the Link to URL button to insert the link.

For further assistance, UO Online & Canvas Support is available.
In-Person: Room 68 PLC
By phone: (541) 346-1942
By email: uoonline@uoregon.edu
Chat with us at livehelp.uoregon.edu
Submit a Service Portal Ticket by clicking the Help button at the bottom of the Global Navigation Menu in Canvas