Discover how to view grades in iClicker and upload grades to Canvas.
Viewing Grades in iClicker
Open iClicker, select your course, then select Open Gradebook. Your Session Data will appear in a column in the Gradebook and will have a Session Number and the date of the session. 
Students who participated will have a score recorded.
Students who did not participate in class will have a red Ab in the Session Data column.
To change the name of the session from the default Session # and Date, click on View [1] and then select Summary [2]. You can change the Session Name [3] here.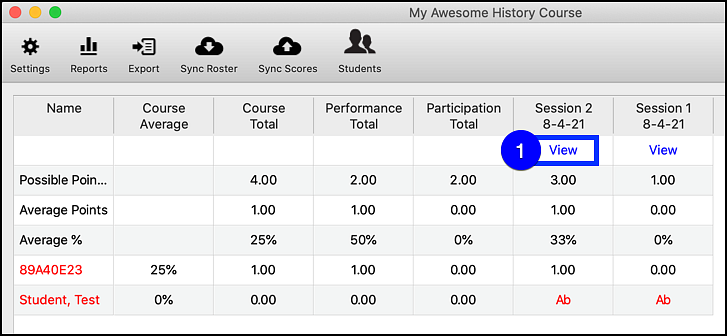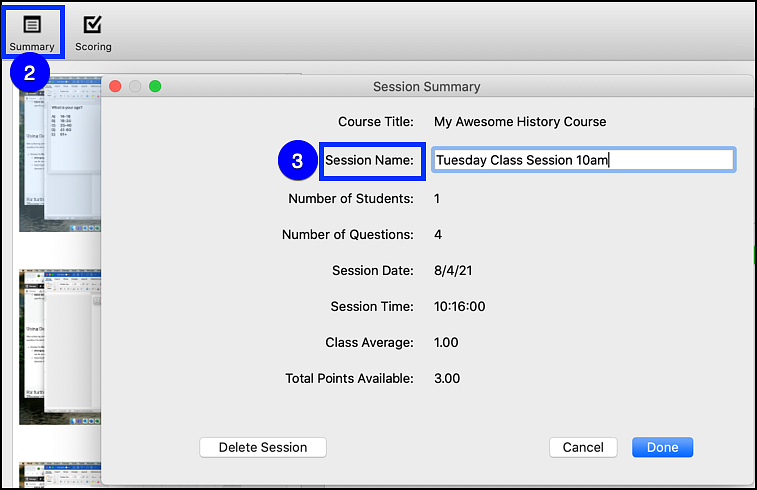 Viewing Questions and Managing Scoring in iClicker
To view the data one question at a time click the View button.
To add correct answers or edit them, select the Question [1] in the left navigation pane. Enter the letter of the Correct Answer [2] or multiple correct answers in the text box provided.

Correct answer responses will turn the bar graph green
Incorrect answer responses will turn the bar graph red

Note: Correct Answers can also be added during class using the Instructor iClicker.
To Delete a question, select the Delete Question button [3].
To view the data for a question in chart format, select View Chart [4].
To adjust the way responses are scored, click on the Scoring button [5] near the top of the screen.
Close the window to return to the iClicker Gradebook.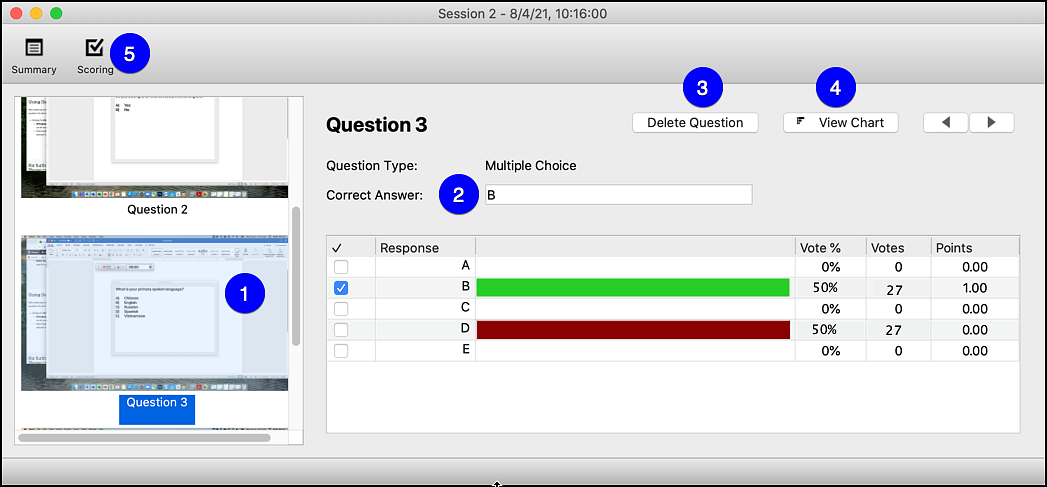 Upload Grades to Canvas
While you have probably synched your Roster already it is a Best practice to Sync Roster before every Grade Sync. 
Click on Sync Roster [1].
Once Synch Roster is complete, click on the Sync Scores [2] button in iClicker Gradebook.
The confirmation message "Student roster downloaded successfully" will appear.
In Canvas, an Assignment is created and a column for the Assignment [3] is added to Grades.
The iClicker Assignment is added to the top Assignment Group in Assignments [4] in Canvas. This can be moved to a different group should that be required in this course for weighting or organizing grades.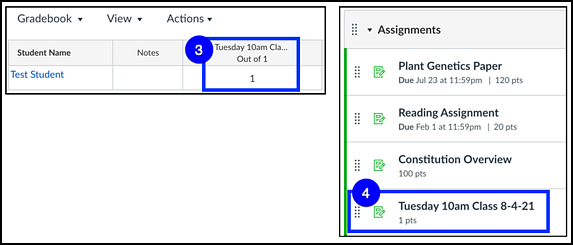 Items of Note
Changing Session titles in Canvas or iClicker between each synching of grades could create a problem with synching grades. The title must be changed in both iClicker and Canvas, and match exactly. The session title can be changed in iClicker by selecting the Summary button as shown above.
Students who have not registered their iClicker and participate with their iClicker in class will not appear by name in the iClicker Gradebook, but by their iClicker ID. They must register their iClicker or have the instructor do so for them.

Closing a Grading Session in iClicker
To end the grading session in iClicker, select the X button to close the dialog box.
For further assistance, UO Online & Canvas Support is available.
In-Person: Room 68 PLC
By phone: (541) 346-1942
By email: uoonline@uoregon.edu
Chat with us at livehelp.uoregon.edu
Submit a Service Portal Ticket by clicking the Help button at the bottom of the Global Navigation Menu in Canvas