How to Re-Grade a Quiz Question
How to Re-Grade a Quiz Question
This guide will show you how to re-grade a Canvas quiz question.
Regrade
Canvas will allow you to re-grade Multiple Choice, True / False, and Multiple Select question types.  To re-grade one of these question types follow these instructions.
Go to the quiz and click the Edit button.
Find the question within the quiz that you want to re-grade.
Select the pencil to edit the question, change the answer option.
When you do this a re-grade window will appear, make the appropriate selection and update the question, and save the exam.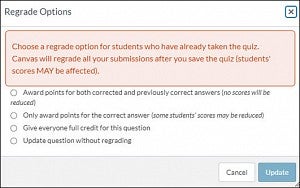 It will take Canvas a few minutes to re-grade all exams and everyone that got that question. You will get an email from Canvas when it has completed the process (2-3 minutes).
In SpeedGrader there will be an orange banner at the top of the quiz question has been re-graded.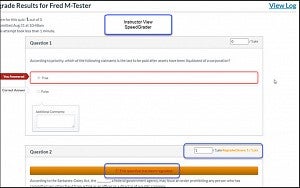 The student will see the same information when they review the quiz.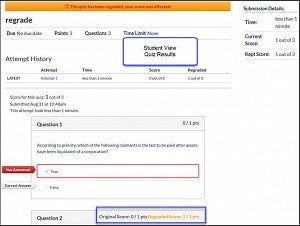 For further assistance, UO Online & Canvas Support is available.
In-Person: Room 68 PLC
By phone: (541) 346-1942
By email: uoonline@uoregon.edu
Chat with us at livehelp.uoregon.edu
Submit a Service Portal Ticket by clicking the Help button at the bottom of the Global Navigation Menu in Canvas