This guide will show you how to create a Canvas quiz.
Creating a Canvas Quiz
In Canvas select the Quizzes link [1] in the left-hand navigation menu. Click the +Quiz button [2] to create a quiz.
Add a descriptive quiz title [3], then add instructions for the quiz in the main text box [4].
Your instructions might include:
How the exam is organized
How long the exam will take
What materials students can or cannot use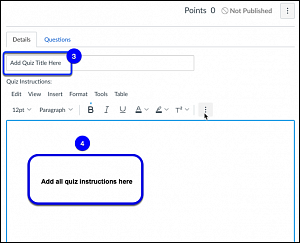 Recommended Exam settings for Academic Integrity
Check the Shuffle Answers [1] box.

Note: you will need to adjust wording for "all of the above" answers when using this setting.

Consider using large banks of questions and randomizing the question delivery using question groups.
If necessary, set a Time Limit [2].
Consider leaving the Let Students See their Quiz Responses [3] box unchecked.
Consider showing one question at a time [4].

Once checked, you can also lock questions after answering.

Do not Require an access code [5] (this is used for proctored exams)
Do not Filter IP Addresses [6]
Assign the quiz to be available for a set amount of time
Be sure to include an "until" date and time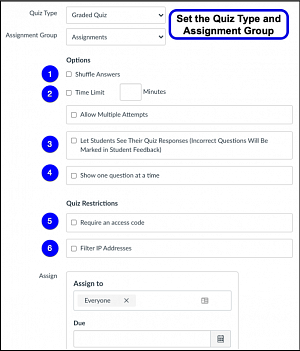 Now you are ready to add the questions to your quiz using question groups.
For further assistance, UO Online & Canvas Support is available.
In-Person: Room 68 PLC
By phone: (541) 346-1942
By email: uoonline@uoregon.edu
Chat with us at livehelp.uoregon.edu
Submit a Service Portal Ticket by clicking the Help button at the bottom of the Global Navigation Menu in Canvas