Fall 2022 Course Resources
Prepare for a great term with a 'Syllabus Starter' template and Canvas modules that you can integrate directly into your course.

This page offers links to four timesaving resources we've made to support your course prep and highlights the key ideas behind the resources. It also notes several fall 2022 dates and deadlines that you may wish to keep in mind during course planning. 
4 Ideas that Guide these Resources
UO faculty and graduate instructors have reported a more acute sense of students' challenges and needs—challenges and needs that impact student learning, but may not directly connect to course content. Common challenges include need for basic resources such as housing or mental health services, lack of motivation and social connection, and difficulty with executive functioning, including assessing progress and planning towards a goal.
Because of those student challenges and needs, faculty and GE instructors also have reported that the amount of administrative and emotional labor they do as part of their teaching has increased, and has at times felt unsustainable. To support students and instructors, we designed these resources to help:
make course policies and expectations transparent and explicit;
orient students to course organization and content;
streamline and routinize communications to and from students (including referrals to UO resources);
create more opportunities for student agency and connection. 
---
4 Ready-to-go Resources:
Below, you can find our Syllabus "Starter," Welcome Module, Report Absences module, and Academic Integrity module. You also will see descriptions of each resource, so you can identify which might best fit your needs and context. Links will take you to the relevant webpage and Canvas Commons modules, where you can explore, import, and adapt them for your courses! 
Exploring the Resources
To explore or import Canvas Commons materials, open a new tab and:
Log into Canvas with your DuckID
Click on the Commons icon, in the left-hand navigation bar
Return to the page where the Commons content is linked, and click that link. Alternately, you can use key terms to search within Commons directly.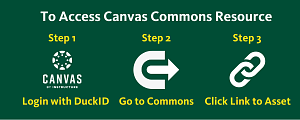 ---
Descriptions of the Resources:
Read these brief descriptions to get a sense of which resources might fit your needs and context.

Syllabus 'Starter' (webpage & Word document)
Course Welcome Module (Canvas)

Report Absences Here (Canvas Module)

Academic Integrity (Canvas Module)
Fall 2022 Dates & Deadlines
As you prepare for and begin your course, you may want to keep the following deadlines in mind. We've integrated these deadlines into the "Report Absences Here" module for students. 
Oct. 1: last day to adjust registration without a 'W'  

Oct. 3: last day to add a class via DuckWeb 

Nov. 13: last day to withdraw from a class and the last day to change grade options (Graded or P/N) 

Nov. 23 through Dec. 5, the End-of-Term Student Experience survey is available

Dec. 9, at 5pm: last day/time to request an Incomplete
In addition, instructors may wish to note that U.S. Midterm elections are November 8.
 
Let us know how else we can support you!
As you approach the term, know we are available to connect with you on anything related to teaching and learning. Whether you have a brief, targeted question or are looking for co-thinking, how-tos, or feedback, we're here for you. Connect with us using our simple contact form.
All our best as you begin your fall term!